Joined

Sep 12, 2012
Messages

1,973
Reaction score

591
Now, honestly, I've been ignoring the threads on here about the GMB analytics updates. I've seen a lot of these updates over the years and they almost always seem unreliable or tell you less than nothing.
However, when I log in today, I was very, very surprised at what I saw: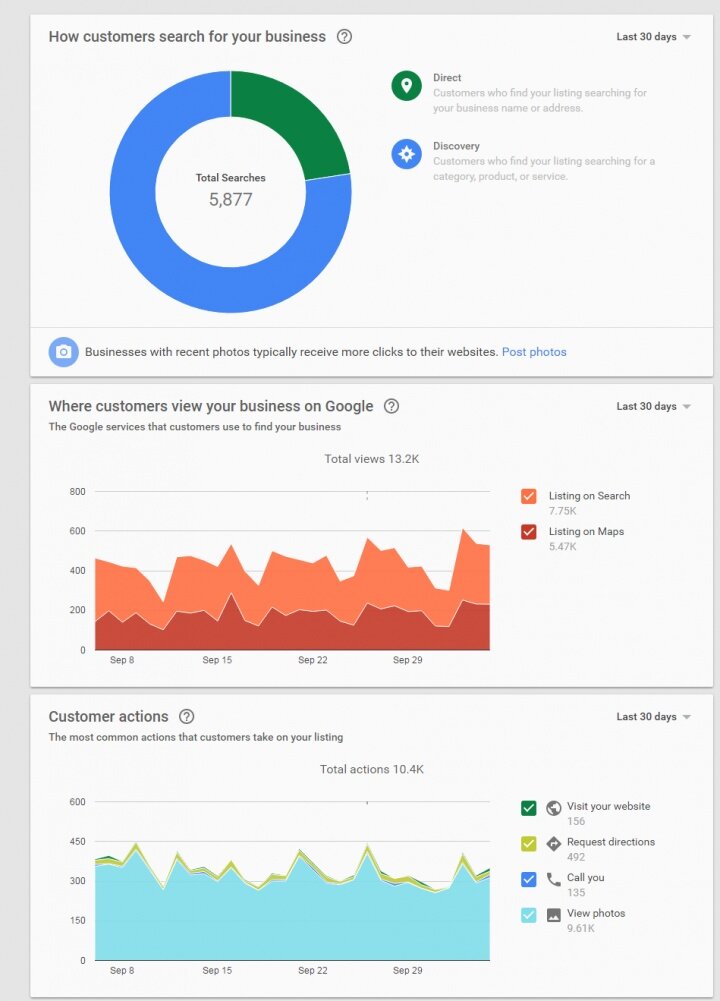 There are some pretty interesting data mines here.
First, there is no other place to find your branded searches vs non-branded searches data anymore. You use to be able to piece it together from Google Analytics data but then Google did away with that with the "not provided" update. You could try to piece it together through Webmaster tools based on modeling but considering how incomplete GWT's search analytics data is, I wouldn't trust it much.
But now with "How customers search for your business" here is a way to at least to get a little help.
Here are a few of my takeaways:
There's no way these are clicks, they have to be impressions. Which tells you almost next to nothing. The "direct" search might as well be a click so they are somewhat helpful, but "discovery" makes me think you're one of the 20 businesses that shows up in the local finder. Who cares?
I'd love to hear more thoughts on what you're doing with this specific data set.
Second, "Where customers view your business on Google".
Do you think this data is accurate?
Based on the sheer amount of volume, it looks like this has to be impressions, not clicks. If so, this again says next to nothing for us really except that we're ranking better organically than on maps.
Are you trusting this data? Any insights (pun intended) that I'm missing?
Third, "Customer Actions" is a bit more intriguing.
156 people visited our website? Google Analytics says it's way more than that. Maybe that was just through our GMB listing? Are these uniques? Probably not.
492 people requested directions to us? That's a lot of people. Are those uniques? If so, that's a lot. If not, I can see that data being accurate for us.
135 calls? Sheesh, I sure hope so. No real way to know if they are new or previous customers except at the point of contact. So without knowing if these were branded searches that led to calls or unbranded searches, doesn't really tell you much again.
9.61k photo views? Not sure how that's even possible...
---
Anyways, my whole takeaway from this is...I'm disappointed again. It looks like GMB is telling us just enough to get local businesses excited at their stats but for us pros, we know the truth. Little to no substance.
But I would love for any of you guys to poke some holes in this for me. I'd rather know the truth.
Have you found your dashboard stats to be realistic?
Are you more optimistic about having access to this data n
And can anyone confirm from Google that these stats are somewhat legitimate?