Administrator
Moderator
LocalU Faculty
Top Poster Of Month
Joined

Jul 19, 2012
Messages

4,911
Solutions

169
Reaction score

2,768
Every once in a while a new tool comes along that is extraordinarily innovative.
The Transparency Company
has accomplished just that. Have you ever wondered if your competitors are engaged in deceptive review practices, but you can't nail down exactly what they are doing in order to prove it to Google? Or they just have so many darn reviews that it would take a billion years to go through each one to determine which are fake? This is the problem that The Transparency Company has solved.
The starting point with this tool is to install the
Chrome Extension
. Make sure that you sign in!
Let me run through exactly how I have been using this tool so far to give you an idea of how it works. Once I've installed and logged into the Chrome Extension, I simply pull up the Google Business Profile of the business I want to scan for fake reviews. You will now see a "Scan This Business" badge that you click on.
Once you click the "Scan This Business" button the tool starts the process of going through all the reviews and putting a report together. Once the report is complete, you can access all your scanned reports by clicking on the Chrome Extension and selecting "My Business Scans". Locate the report once it has completed running and it will tell you if the businesses reviews are "Verified", which means they are not suspicious, or it will label it as "Suspicious" if the tool finds signs of deception.
You have the option to "See Listing" which pulls up a customized directory type listing for that business that highlights all the reason for the "suspicious" label. You can also download the report which will give you a comprehensive report that you can share with Google when reporting the reviews. So far the Transparency team has seen the following actions taken by Google:
Listing removals/suspensions
Complete review swipes
Here's a sample report:​
How cool is that!
You can also manage the reports and folders in your dashboard by simply dragging and dropping them.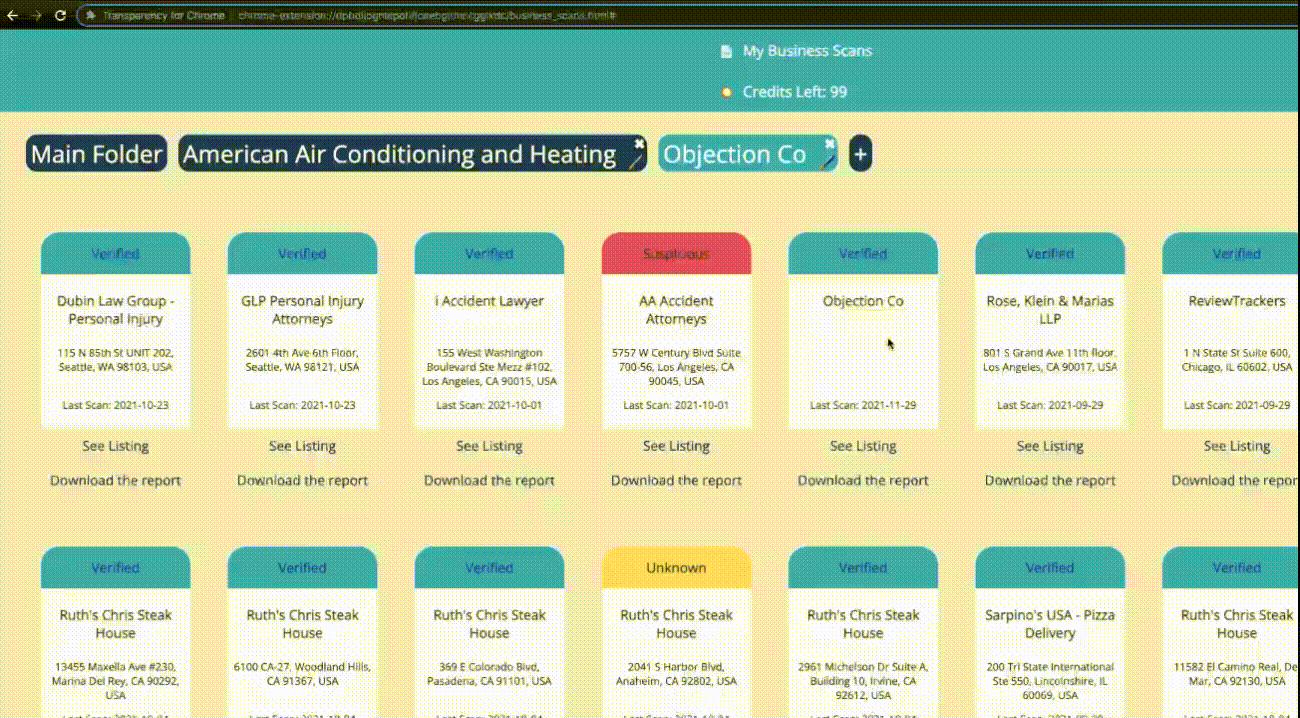 This is important because they recommend you have a folder for:
- Your company location(+ your competitors)
- Your clients (+ their competitors)
Friday Target Practice​
The Transparency Team also hosts a free weekly review takedown meeting.
Bring red/suspicious competitors reports to their Friday Target Practice meetings for free review-takedowns
https://community.askfortransparency.com/events
Additional Services​
They also have services for companies/agencies that don't want to do their own review spam fighting, and their Spam Fighting Captain Jason Brown would be happy to go after your competitors.
More details can be found on:
The Transparency Company | Learn more about our available services
Special Offer for Local Search Forum Members​
-
Free Indexed Listings
(for clients)
- Free Verification Video (for clients)
Feel free to ask Curtis and the team any questions you have on their
website
or start the conversation right here at the Local Search Forum.