Moderator
Local Search Expert
Joined

Jun 28, 2012
Messages

13,313
Reaction score

4,148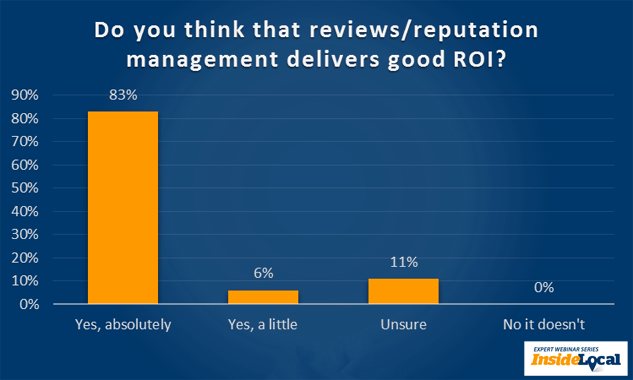 ​
Myles just pulled some EXCELLENT gold nuggets out of last week's
Reviews & Reputation webinar
.
<a href="http://searchengineland.com/local-search-marketers-83-seos-believe-focusing-reviews-delivers-good-roi-220077">Local Search Marketers: 83% Of SEOs Believe Focusing On Reviews Delivers Good ROI</a>

SEOs understand that managing a business?s online reviews and reputation is crucial. We can see that the majority of those surveyed either already have a review strategy in place or are working on putting one together right now.

12 Pieces Of Wisdom For Managing Your Reputation

These 12 ?nuggets of gold? come courtesy of the four expert panelists on the recent ?Reviews & Reputation? webinar. These aren?t my own ideas, so I can?t take any credit for them ? that belongs to <a href="https://plus.google.com/+ThomasBallantyne/posts">Thomas Ballantyne</a>, <a href="https://plus.google.com/+PhilipRozek/posts">Phil Rozek</a>, <a href="https://plus.google.com/+AaronWeiche/posts">Aaron Weiche</a> and <a href="https://plus.google.com/+DonCampbell">Don Campbell</a>. Huge thanks to them.
It's well worth a read and there are some other good charts, so head over to Search Engine Land now.
Myles really summarized some great insights from our speakers.
I think this was one of our best webinars yet!
The video is up, so if you missed the webinar, watch it here:
<a href="http://www.localsearchforum.com/insidelocal-webinars/30928-build-maximize-local-reviews-reputation-webinar.html">Build & Maximize Local Reviews and Reputation Webinar</a>
Image credit: BrightLocal Survey, posted at the SE Land article above.
<meta property="og:type" content="article"><meta property="og:title" content=""><meta property="og:description" content="">
<meta property="og:image" content="">