Moderator
Local Search Expert
Joined

Jun 28, 2012
Messages

13,313
Reaction score

4,148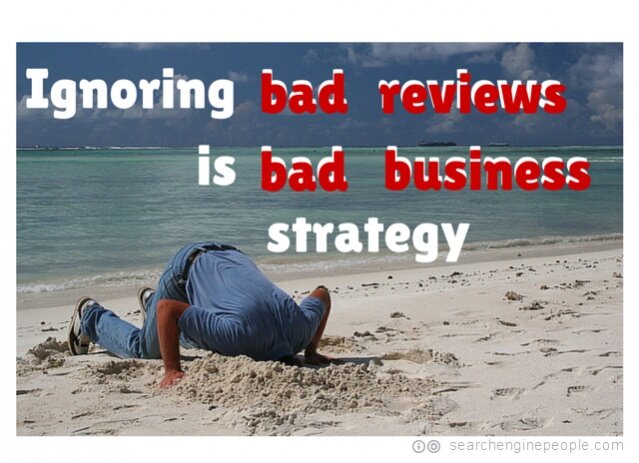 Image Credit:
Search Engine People
​
Let's face it, if your business is public facing and you have a decent amount of customers, you will likely get a negative review some day.
Below are 2 good posts with lots of solid tips about how to deal with it when that day comes.
Remove Negative Google Reviews By Responding??? It's an interesting theory, makes sense AND worked in the case below.
<a href="http://www.searchenginepeople.com/blog/150241025-respond-google-local-reviews.html">Remove Bad Review From Google Local By Responding</a>

When someone leaves a negative review, there is hope. You don't have to live with that stain on your reputation forever.

Take this example of a customer who took the time to change their review because of a conversation they had with the manager. This is a fast food restaurant, not a highly considered purchase! And they took the time to change the review, because the concern was addressed.
Love Helen's examples of the the customer that changed their review when it was dealt with right AND the restaurant that took the humorous approach to a ridiculous review.
Here's another review post from last week with more good advice.
<a href="http://www.stateofdigital.com/bad-review-good-thing-business/">When a Bad Review is a Good Thing for your Business. - State of Digital</a>

We?ve seen in the past where reviews posted have had a direct impact on the bottom line of those businesses concerned. It?s difficult now to find a sector of business or indeed any sector which does not have some sort of review based platform ? even teachers are reviewed by their students on ?Rate my Teacher?

Many businesses are running scared ? but this should be seen as a challenge and an opportunity, not doom and gloom...

?The increasing impact of online content on buying decisions cannot be ignored? says President of Cone, Bill Flieshman, ?With 89% of consumers viewing online sources of product and service reviews as trustworthy and four out of 5 changing their minds about a purchase based solely on the negative reviews they read.?

Still ? many businesses fear that a negative review could be just around the corner. And that is likely to be true.

If this happens, don?t panic! This can be managed and even used to your advantage.
So what can your business or organisation do to keep its online reputation in shape?
I think there is lots of great advice in these 2 posts about how to deal with negative reviews
AND lots of good examples of how NOT to respond to reviews as well.
I would advise SMBs to take a deep breath before responding. Then after you have cooled down write your response and give it to your marketing person, to fine tune and ensure it has the right tone plus sends the right message. Then run the final past a few people who can be impartial. Ask them to read it as if they don't know you or your business and find out if the reply puts you and your business in a positive light.
What do you think?

Any good review stories or strategies to share???
<meta property="og:type" content="article"><meta property="og:title" content=""><meta property="og:description" content="Lots of great advice in these 2 posts about how to deal with negative reviews AND lots of good examples of how NOT to respond to reviews as well!">
<meta property="og:image" content="">