Moderator
Local Search Expert
Joined

Jun 28, 2012
Messages

13,313
Reaction score

4,148
How much could a business lose due to negative reviews?
Reportedly they could cost Trump's business ventures $100 Million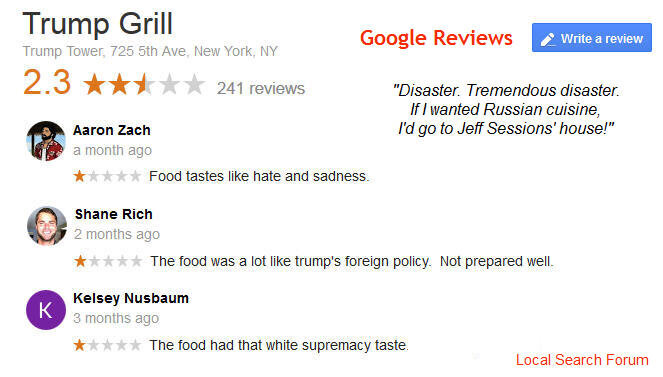 (Above: Google reviews of Trump Grill - see Yelp's response below)
SAD! People are just terrible! These reviews are driven by the "FAKE NEWS"!
​
There has been a lot of recent press about the fact that Trump restaurants & hotels are getting so many politically driven (fake) reviews that it could hurt his empire's bottom line to the tune of $100 Million! (Based on calculations being reported below.)
It's gotten so bad that Yelp has issued warnings on some Trump owned listings that they are doing cleanup of reviews that seem to be motivated by politics or news, instead of legitimate reviews of the business.
​
However Google does not appear to be taking such a proactive stance. The top image above features just a couple of the many funny/bad reviews still up on Trump properties' Google My Business listings.
Trump Hotels Are Getting Horrible Reviews on Yelp | Time.com

President Donald Trump has been described as an Internet troll. Yet for months his critics have been trolling him right back, not just via social media but by bashing Trump hotels, restaurants, and resorts with bad online reviews—and the strategy could mean upwards of $100 million in lost revenues for Trump companies.
Here are other news reports with more details:
Donald Trump critics whelp on Yelp | Newsday
Donald Trump's Empire Could Lose $100 Million Due Bad Online Reviews
Trump's property ratings are plummeting - Business Insider
Falling Stars: Negative Yelp Reviews Target Trump Restaurants, Hotels
Trump Hotels Are Getting Hammered With Horrible Online Reviews
Trump is such a narcissistic nutcase that on one hand I feel like he's brought this on himself and deserves what he gets. BUT in the interest of fair/honest reviews, ones that are not based in fact and from actual customers should be removed.

What do you think?