Moderator
Local Search Expert
Joined

Jun 28, 2012
Messages

13,313
Reaction score

4,148
I think "Places Search: will be making a come back (but name could change) and I think the new maps update is getting closer to launch and I think a bunch of things are about to change.
Want to see a sneak peek of what I think is coming???
(Screenshot below and you can even try a preview for your clients.)
(Note this is a re-hash of some things
I predicted and posted about back in May
, but with new examples. My spidey senses tell me this update is getting closer.)
Remember how Places search USED to look? Or if you click the "more results near..." link???

It would take you to a list that looked like the 7 pack with NAP, reviews and no images right???
Then Places search and the more link went away in April. At that time I predicted it went away temporarily because Google was working on changing something in the background and did not want it to be visible until they were finished and were ready to launch.
When Places search disappeared - 2 hacks were shared that would let you still see the old Places search so you could still check to see where your client ranked if they were on page 2 or page 3.
Here is one hack
shared by Mark Kabana of Places Scout here at our forum.
The other
slightly different Places search hack
was from Darren of Whitespark over at Mike's.
Again, both hacks used to take you to a plain list of businesses that looked just like the current pack display. Now they take you to the same type of display that now shows if you are on the NEW maps and click "go to list of top results" [/B]
CLICK this link to See It!
Los Angeles Dentist - Google Search
(Screen shot below in case you are not seeing it yet.)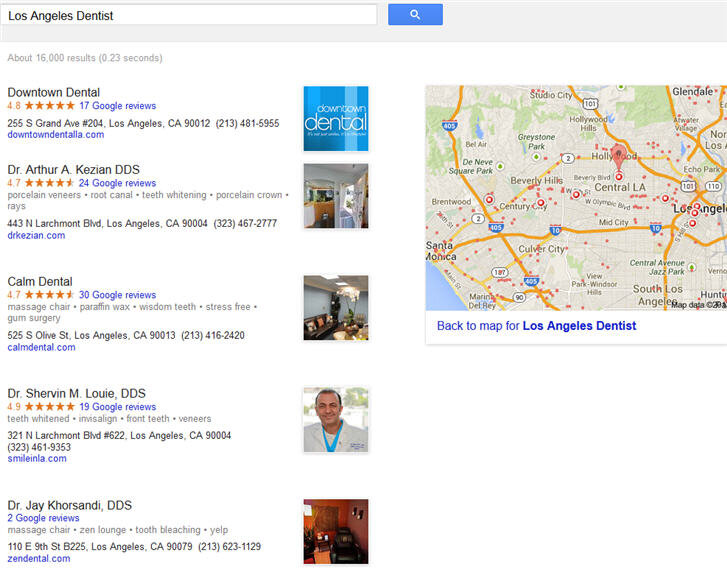 ​
So now instead of those hacks taking you to the old plain Places search display - suddenly its the same as the new "Top Results" display on the new Google maps. WITH IMAGES AND STARS.
The other thing that's noteworthy. I am on Firefox right now and DO NOT HAVE THE MAPS UPDATE on this Google account. I can search high and low in this browser and I only get the old classic maps. BUT on the screen shot above and any time I use that hack (add &tbm=plcs to any search string)
I get that new display AND the map it's showing is the new maps.
(Which is part of what makes me think the new maps is getting closer to launch and all this stuff is starting to come together.)
Ready to play??? CHECK THIS OUT!
Go to this Google search link

.
Search for city + KW and you'll get that new display with stars and images. Try it!
​
OK so here is my hypothesis...
(which of course may or may not come to reality)
I think they removed Place search and "more results" so they could work on all these layout changes in the background. (But of course we snoop and find some of this stuff.)
Then they added back in the "more results" link because they knew it was weird to have results just stop at 7 or 3 or whatever. But they linked to maps results because this new display is all tied to the new Google maps layout which is not ready to launch yet.
On the new maps, that list of "Top Results" is too buried and obscure to warrant that big of a display update - adding the images and changing the whole layout. SOOOOOOOOOOOO....
I think that the "Places Search" option is going to come back to the navigation on the main Google search page and point to this new style display. (But again name could change.) And I think the current "more results" link will change from maps to this new style list. I even think it's possible for the pack to change to this layout with the images and stars - later maybe.
What do you think?